Total Shoulder Replacement
I have been told I need a shoulder replacement. What do I need to know about this procedure?
Severe shoulder arthritis can cause pain with simple activities, and interfere with motion, and impede participation in sports and other leisure activities. Total shoulder replacement restores joint function, enabling you to regain your strength, flexibility, and motion. Shoulder replacement will all you to resume an active lifestyle, allowing you to enjoy activities such as golf, tennis, and pickleball.
Shoulder replacement is considered a very durable procedure, with substantial improvements noted for many years, even in younger patients(1). Innovations in the design and engineering of modern shoulder replacements contributes to the long-term success of this procedure, coupled with having a subspecialty trained surgeon such as Dr. Obermeyer who performs a high volume of these replacements.
Can you describe exactly what is done with total shoulder replacement?
Total shoulder replacement is effectively a resurfacing of the arthritic joint surfaces. It is called "anatomic" because your original soft tissues, including the rotator cuff, are preserved; the replaced shoulder functions much like it originally did prior to the onset of the arthritic process. Motion is restored because the contracted and stiffened capsule tissue is released and the worn bony surfaces are restored to their original orientation.
What are some of the recent innovations in shoulder replacement offered by Dr. Obermeyer?
Shoulder replacement is now performed in a bone-preserving manner, where there is a minimal amount of bone removed during the prosthetic implantation. As an example, the prosthetic humeral component, is commonly "stemless" where there is no long pin that goes deep into the humerus bone. The benefits of this are more precise restoration of anatomy(2), quicker recovery, and improved bone stock in the setting of revision.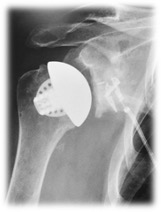 Dr. Obermeyer also used sophisticated preoperative templating software and intraoperative navigation to ensure proper implant placement so that the joint is balanced and functions correctly. This new technology uses a 3D reconstruction of your anatomy based on a CT that allows overlay of the correct sizes and orientation of the planned prosthetic joint.
Finally, Dr. Obermeyer applies a comprehensive and personalized approach to your care so that you are guided each step of the way to a successful outcome. He ensures you are properly counseled and understand expectations throughout your surgical journey.
What is the recovery from shoulder replacement like?
Shoulder replacement is commonly performed as an outpatient and patients can typically leave the facility the same day. However, some patients with medical comorbidities or other considerations may require overnight observation in a hospital setting. Shoulder replacement involves protection of the joint for six weeks for healing in a sling, during which time the joint is moved by the patient at home and under the direction of a physical therapist.
You will appreciate the very rapid improvement in arthritic pain in your shoulder shortly after surgery and most patients achieve >90% of the total pain improvement within six weeks of the surgery(3), around the time you are able to resume full activities outside of the sling.
Patients may drive within a couple weeks while wearing a sling, and simple activities with the hand in front of the body are permitted within days of the operation. Therapy and stretches help to regain full motion by approximately 3 months and full unrestricted activity is resumed by 4 to 6 months.
How does the recovery from shoulder replacement compare with recovery from other shoulder procedures?
Experience confirms that although shoulder replacement requires opening the shoulder joint through an incision and resurfacing the arthritic bones, the recovery in pain and activity is actually significantly faster than recovery from other common "minimally invasive" procedures, such as arthroscopic rotator cuff repair(3). Additionally, shoulder replacement can generate significantly higher total pain improvements than other common shoulder procedures, including rotator cuff repair, biceps tenodesis, and reverse total shoulder replacement(3).
If you are considering shoulder replacement, it is important to understand the likelihood of a successful outcome and to not compare your expected recovery process to that of a friend who may have had surgery for a different problem under different circumstances. Equally important in your decision is selecting a specialist surgeon, such as Dr. Obermeyer, with specific training and a high volume of experience in shoulder replacement as this can predict the final outcome(4).
Schedule an orthopedic appointment
If you are in need of shoulder replacement surgery book an appointment with shoulder surgeon Dr. Thomas Obermeyer. Dr. Obermeyer specializes in shoulder surgery. Dr. Obermeyer has orthopedic offices in Schaumburg, Bartlett, and Elk Grove Village, Illinois. Dr. Obermeyer regularly sees patients from throughout Illinois including Hoffman Estates, Palatine, Elgin, Streamwood, Arlington Heights, and Roselle communities. You're in expert hands.
---
References
Neyton L, Kirsch JM, Collotte P, Collin P, Gossing L, Chelli M, Walch G. Mid- to long-term follow-up of shoulder arthroplasty for primary glenohumeral osteoarthritis in patients aged 60 or under. J Shoulder Elbow Surg. 2019 Sep;28(9):1666-1673. doi: 10.1016/j.jse.2019.03.006. Epub 2019 Jun 13. PMID: 31202630.
Sears BW, Creighton RA, Denard PJ, Griffin JW, Lichtenberg S, Lederman ES, Werner BC. Stemless components lead to improved radiographic restoration of humeral head anatomy compared with short-stemmed components in total shoulder arthroplasty. J Shoulder Elbow Surg. 2023 Feb;32(2):240-246. doi: 10.1016/j.jse.2022.07.024. Epub 2022 Sep 15. PMID: 36115615.
Grubhofer F, Muniz Martinez AR, Ernstbrunner L, Haberli J, Selig ME, Yi K, Warner JJP. Speed of recovery of the most commonly performed shoulder surgeries. JSES Int. 2021 Apr 21;5(4):776-781. doi: 10.1016/j.jseint.2021.03.007. PMID: 34223429; PMCID: PMC8245973.
Weinheimer KT, Smuin DM, Dhawan A. Patient Outcomes as a Function of Shoulder Surgeon Volume: A Systematic Review. Arthroscopy. 2017 Jul;33(7):1273-1281. doi: 10.1016/j.arthro.2017.03.005. Epub 2017 Apr 26. PMID: 28456358.
At a Glance
Dr. Thomas Obermeyer
15+ years of training and experience treating complex shoulder and sports medicine conditions
Expert subspecialized and board-certified orthopedic care
Award-winning outstanding patient satisfaction scores