Arthroscopic Treatment of Acromioclavicular (AC) Pain
When is arthroscopic treatment of acromioclavicular (AC) pain required?
Arthroscopic treatment for AC joint pain may be required for pain or degeneration of the AC joint. Arthroscopic management of this condition may be required when you have been diagnosed with pain, concordant MRI, and physical findings suggesting symptoms are contributed by or caused by the AC joint, and other treatments have not worked. Arthroscopic management for AC pain may be used in isolation or in conjunction with other arthroscopic procedures around the shoulder. This procedure is done minimally invasively where the (distal) end of the collarbone is removed and chiseled down with a tiny instrument called a bur. Historically, a large incision at the top of the shoulder was required but recently, more modern techniques allow this to be done quickly with small instruments inserted through tiny incisions allowing an easier recovery.
How do I know if I am a candidate for arthroscopic treatment of AC pain?
To confirm the AC joint is a contributing source of your shoulder pain, Dr. Obermeyer will examine your shoulder and confirm that the joint is tender to the touch and painful when the joint is provoked, and stress is applied through it. AC pain occurs at the front and top of the shoulder and is worse with certain activities, including lifting weights, reaching across your chest, or placing your arm behind your back. On imaging, radiographs may reveal erosion, cysts, or spurs around the AC joint, and MRI may show fluid and edema (signal) on both sides of the joint, namely at the acromion and at the clavicle.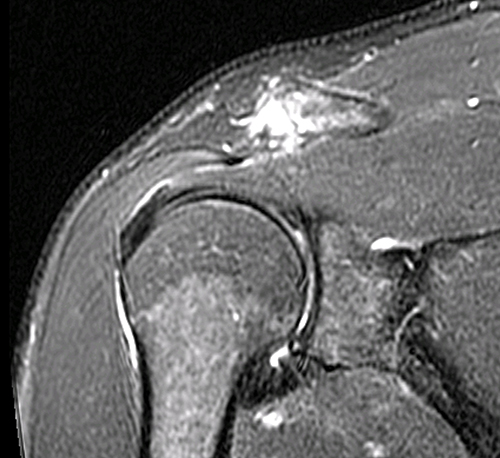 What else do I need to know about arthroscopic treatment for AC joint pain?
It is important to know that AC joint pain is very common and many patients that develop pain at this area will have only limited and temporary relief with injections(1). Arthroscopic treatment is definitive, predictable, and leads to excellent long-term outcomes in appropriately selected patients. It is important to undergo a thorough evaluation prior to proceeding to arthroscopy for this condition, as it uncommonly occurs in isolation and frequently accompanies other painful conditions around the shoulder including subacromial pain, biceps tendinopathy, or rotator cuff disorders(2). When the AC joint is painful along with other pain sources in the shoulder, AC joint resection can be added to other procedures, only adding several minutes to the surgical procedure, and not appreciably affecting recovery.
What is recovery like after arthroscopic treatment for AC pain?
Recovery after arthroscopic resection of the AC joint (called distal clavicle resection) is relatively straightforward when the procedure is performed in isolation. A sling is maintained for a couple weeks for comfort only, followed by resumption of full activities. Activities are advanced promptly, with near full function expected around 6-10 weeks. There may be mild soreness at the surgical site that persists for a few additional months, after which time the pain resolves. The timeframe for recovery may be impacted if additional procedures or injuries are present in the shoulder, with other treatments (such as rotator cuff repair) having a larger impact on the timing of your recovery. It is recommended you discuss this with Dr. Obermeyer to understand what to expect in your specific case.
Schedule an orthopedic appointment
If you have pain in your shoulder and are concerned you may require an orthopedic subspecialist evaluation, call our office, or book an appointment with shoulder surgeon Dr. Thomas Obermeyer. Dr. Obermeyer provides expert orthopedic care for patients suffering acromioclavicular joint (AC) conditions. Dr. Obermeyer has orthopedic offices in Schaumburg, Bartlett, and Elk Grove Village, Illinois. Dr. Obermeyer regularly sees patients from throughout Illinois including Hoffman Estates, Palatine, Elgin, Streamwood, Arlington Heights, and Roselle communities.
---
References
Miedema N, Sierevelt I, Alta TDW, Vossen RJM, van Noort A. Mid- to long-term success rate and functional outcomes of acromioclavicular injections in patients with acromioclavicular osteoarthritis. Clin Shoulder Elb. 2023 Jun;26(2):175-181. doi: 10.5397/cise.2023.00031. Epub 2023 May 31. PMID: 37316179; PMCID: PMC10277705.
Farrell G, Watson L, Devan H. Current evidence for nonpharmacological interventions and criteria for surgical management of persistent acromioclavicular joint osteoarthritis: A systematic review. Shoulder Elbow. 2019 Dec;11(6):395-410. doi: 10.1177/1758573219840673. Epub 2019 Apr 11. PMID: 32269599; PMCID: PMC7094063.
At a Glance
Dr. Thomas Obermeyer
15+ years of training and experience treating complex shoulder and sports medicine conditions
Expert subspecialized and board-certified orthopedic care
Award-winning outstanding patient satisfaction scores