What's new in ACL Reconstruction
What's new in ACL Reconstruction
Reconstruction of the anterior cruciate ligament is nuanced, and there is no one-size-fits-all approach to this procedure.  On the contrary, there are several considerations the surgical decision making that can predict the recovery process, return to sport, and prevention of complications, which includes limiting the risk of re-rupture of the graft.  Over the last few decades, our experience with ACL reconstruction has deepened, the technology has continued to improve, and we have been able to identify failure mechanisms that we can use to better predict a successful long-term outcome with the procedure.
What have we learned from the data?
It is clear from experience in ACL reconstruction that anatomic reconstruction, which is placement of a graft at the native (original) positions on both sides of the knee joint is critical for knee function, return to sport, and prevention of re-injury.  Specifically, patients with even slightly non-anatomic graft placement have been shown to be at risk for residual instability, which manifests as difficulty returning to sporting activities, and can increase the likelihood of subsequent damage to the cartilage and meniscus of the knee(1).  What has been quite clear from the data on ACL reconstruction follow-up is that younger age, higher activity level, and the use of cadaver grafts are associated with higher failure rates(2).  Equally compelling data is that in young patients who have high demands, the use of hamstring autografts may also be associated with higher failure rates in comparison with patellar tendon autografts(3).
Besides picking the right graft and having the procedure done correctly (anatomically), what else do I need to know?
Experience has demonstrated that certain patients can experience failure of the ACL reconstruction, even when the procedure is done anatomically.  Some patients have "loose" joints, manifested by knee hyperextension, which has been shown to be an independent risk factor for failure of an anatomically positioned ACL reconstruction(4).  Other research has specifically addressed the role of the anterolateral ligament (ALL), joint capsule, and iliotibial band in the setting of ACL tears.  The tissues together are commonly injured in conjunction with ACL tears, and there is emerging evidence that these structures should be surgically addressed in some young, high-risk patients undergoing ACL reconstruction(5).  Specifically, a procedure called the lateral extraarticular tenodesis ("LET") has been shown to reduce failure rates of an anatomically positioned ACL graft and should be considered in certain high-risk patients and elite athletes undergoing autograft ACL reconstruction(6, 7).  The LET is a simple addition to primary ACL reconstruction and can be performed through a small incision on the outer part of the knee without affecting the recovery process(6).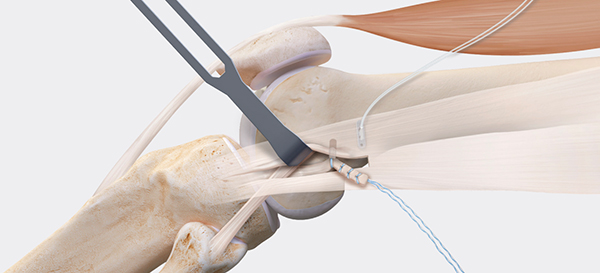 Can Dr. Obermeyer help guide me through my decisions with ACL surgery?
Yes.  As noted above, ACL reconstruction surgery has evolved substantially in the last several years and we know more now about ensuring a successful outcome with ACL surgery than at any time in the past.  Dr. Obermeyer has years of experience treating these injuries, uses the most advanced and up-to-date technology at surgery, and uses a personalized approach to treatment.  Dr. Obermeyer will guide you through your surgical experience and decisions and ensure your expectations are met and optimize your chances for a successful outcome.
Schedule an orthopedic appointment
If you or a loved one has suffered an ACL tear, book an appointment with knee surgeon Dr. Thomas Obermeyer. Dr. Obermeyer specializes in knee surgery. Dr. Obermeyer has orthopedic offices in Schaumburg, Bartlett, and Elk Grove Village, Illinois. Dr. Obermeyer regularly sees patients from throughout Illinois including Hoffman Estates, Palatine, Elgin, Streamwood, Arlington Heights, and Roselle communities. You're in the hands of an expert knee surgeon.
---
References:
Sanders TL, Kremers HM, Bryan AJ, Fruth KM, Larson DR, Pareek A, Levy BA, Stuart MJ, Dahm DL, Krych AJ. Is Anterior Cruciate Ligament Reconstruction Effective in Preventing Secondary Meniscal Tears and Osteoarthritis? Am J Sports Med. 2016 Jul;44(7):1699-707. doi: 10.1177/0363546516634325. Epub 2016 Mar 8. PMID: 26957217.
Kaeding CC, Pedroza AD, Reinke EK, Huston LJ; MOON Consortium; Spindler KP. Risk Factors and Predictors of Subsequent ACL Injury in Either Knee After ACL Reconstruction: Prospective Analysis of 2488 Primary ACL Reconstructions From the MOON Cohort. Am J Sports Med. 2015 Jul;43(7):1583-90. doi: 10.1177/0363546515578836. Epub 2015 Apr 21. PMID: 25899429; PMCID: PMC4601557.
Gifstad T, Foss OA, Engebretsen L, Lind M, Forssblad M, Albrektsen G, Drogset JO. Lower risk of revision with patellar tendon autografts compared with hamstring autografts: a registry study based on 45,998 primary ACL reconstructions in Scandinavia. Am J Sports Med. 2014 Oct;42(10):2319-28. doi: 10.1177/0363546514548164. Epub 2014 Sep 8. PMID: 25201444.
MARS Group; Cooper DE, Dunn WR, Huston LJ, Haas AK, Spindler KP, Allen CR, Anderson AF, DeBerardino TM, et al. Physiologic Preoperative Knee Hyperextension Is a Predictor of Failure in an Anterior Cruciate Ligament Revision Cohort: A Report From the MARS Group. Am J Sports Med. 2018 Oct;46(12):2836-2841. doi: 10.1177/0363546518777732. Epub 2018 Jun 8. PMID: 29882693; PMCID: PMC6170681.
Getgood A, Brown C, Lording T, Amis A, Claes S, Geeslin A, Musahl V; ALC Consensus Group. The anterolateral complex of the knee: results from the International ALC Consensus Group Meeting. Knee Surg Sports Traumatol Arthrosc. 2019 Jan;27(1):166-176. doi: 10.1007/s00167-018-5072-6. Epub 2018 Jul 25. PMID: 30046994.
Getgood AMJ, Bryant DM, Litchfield R, Heard M, McCormack RG, Rezansoff A, Peterson D, Bardana D, MacDonald PB, Verdonk PCM, Spalding T; STABILITY Study Group; Willits K, et al. Lateral Extra-articular Tenodesis Reduces Failure of Hamstring Tendon Autograft Anterior Cruciate Ligament Reconstruction: 2-Year Outcomes From the STABILITY Study Randomized Clinical Trial. Am J Sports Med. 2020 Feb;48(2):285-297. doi: 10.1177/0363546519896333. Epub 2020 Jan 15. PMID: 31940222.
Borque KA, Jones M, Laughlin MS, Balendra G, Willinger L, Pinheiro VH, Williams A. Effect of Lateral Extra-articular Tenodesis on the Rate of Revision Anterior Cruciate Ligament Reconstruction in Elite Athletes. Am J Sports Med. 2022 Nov;50(13):3487-3492. doi: 10.1177/03635465221128828. Epub 2022 Oct 18. PMID: 36255290.
At a Glance
Dr. Thomas Obermeyer
15+ years of training and experience treating complex shoulder and sports medicine conditions
Expert subspecialized and board-certified orthopedic care
Award-winning outstanding patient satisfaction scores